Regular price
$134.99 USD
Regular price
Sale price
$134.99 USD
Unit price
per
Sale
Sold out
Blockstream Jade Hardware Wallet
-21% OFF
Blockstream Capsule Seed Phrase Backup Tool
-16% OFF
View full details
The Blockstream Capsule and Blockstream Jade form a perfect hardware wallet bundle consisting of Blockstream's secure hardware wallet and backup tool used to protect your Bitcoins and Liquid assets.
Blockstream Jade Wallet Features
Fully open-source for both hardware and software, Blockstream Jade secures your keys offline in combination with Blockstream Green. This hardware wallet bundle supports both Bitcoin and Liquid Network assets. Out of the box, Blockstream Jade enables you to send and receive Bitcoin and all Liquid assets issued on the Liquid Network. This includes L-BTC, major assets such as Tether (USDt), L-CAD, JPYS, and any tokens issued by other Liquid users.
Key Features
Advanced Liquid asset support
Full-color screen with QR code support
Rate-limited, server-enforced PIN protection
More features will be enabled in the future through software updates, including:
Camera for fully air-gapped transactions
Hardware Wallet Interface (HWI) wallet support for compatibility with Bitcoin Core
Independent PIN server support
Blockstream Capsule Backup Tool Features
The Blockstream Capsule is the all-new way to store your keys in the physical world – bringing together user-friendliness, robust materials, and an unassuming shape for maximum portability and stash-ability. This is a better form of storing your seed phrase compared to a piece of paper, or even worse, on the cloud. Use the Blockstream Capsule to help protect your seed phrase from fire, water, termites, and potentially wandering eyes.
Manufactured by Cryptosteel, stainless steel capsules are shipped with 800 deeply-stamped tiles. This lets you record whatever you need in the capsule's 123 hexademical character space – or a random ASCII strings up to 55 characters.
Simply unscrewed the capsule lid, slide the tiles in in the correct order to record your seed phrase, and seal it again for secure storage. Need more detailed instructions? Check out these quick-and-easy tutorial videos from Cryptosteel.
Included in the package:
Blockstream Jade device
USB Type-C to USB Type-A cable*
Recovery phrase sheet
Quickstart guide
Blockstream Sticker
One (1) 12 Word QR Code Template
One (1) 24 Word QR Code Template
Blockstream Capsule Backup Tool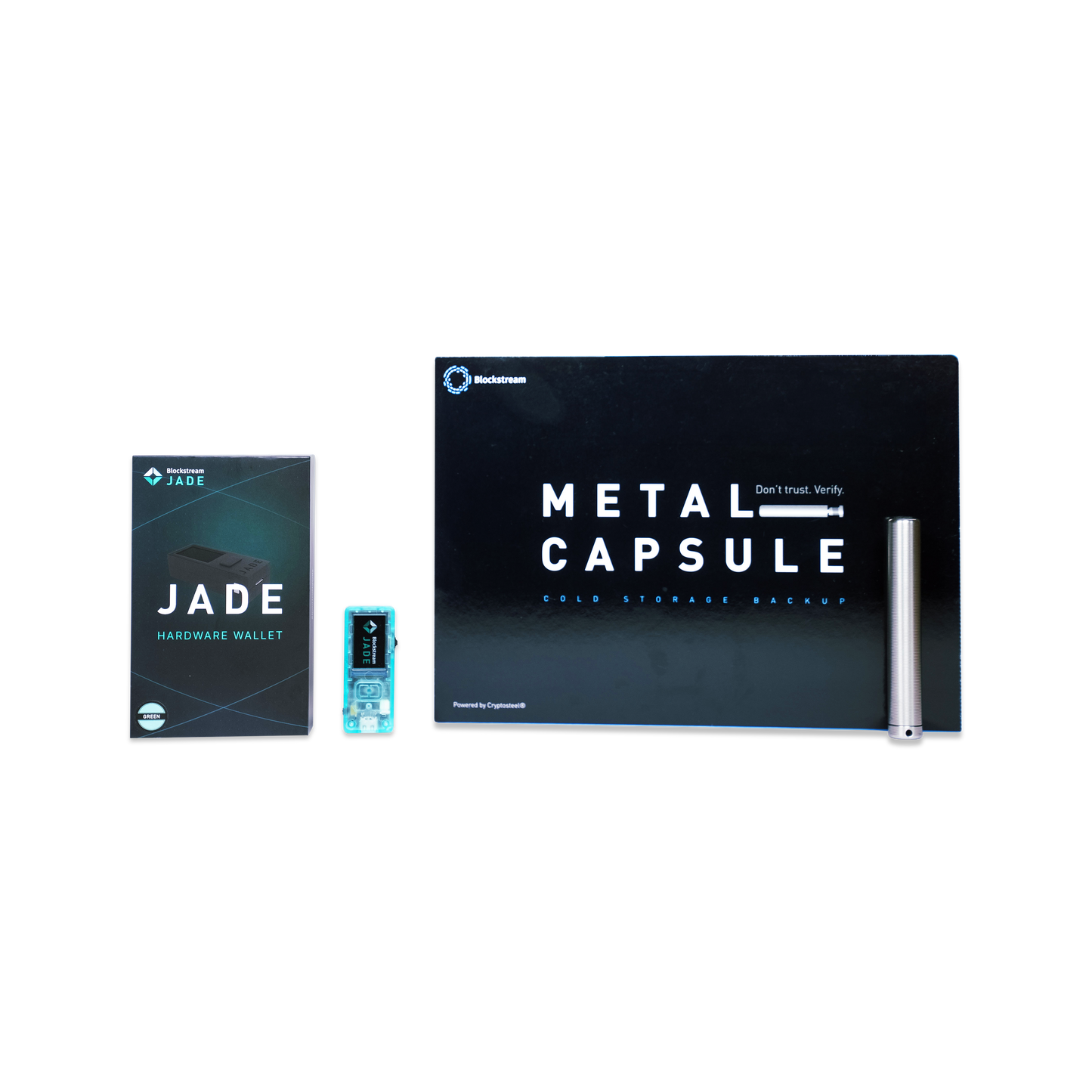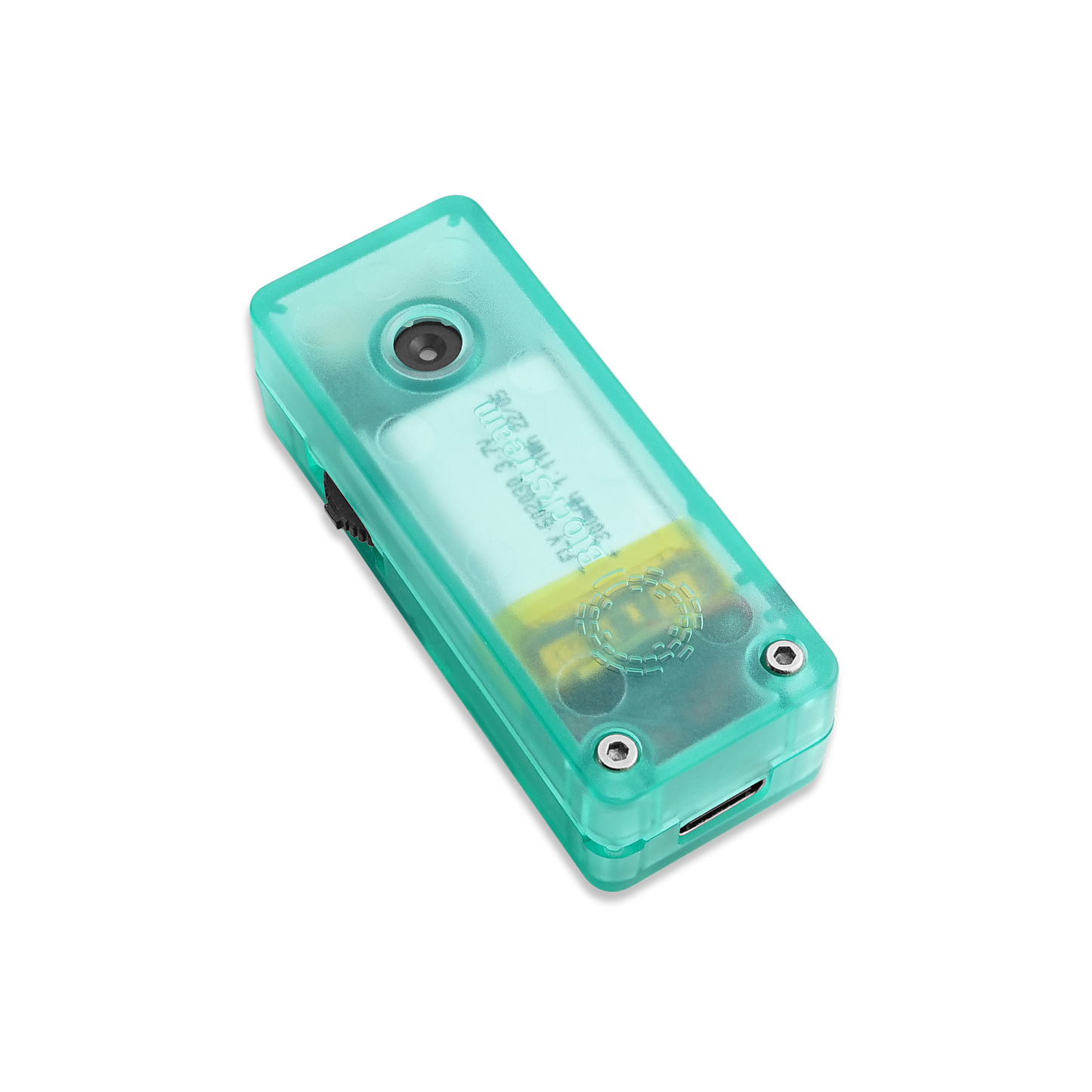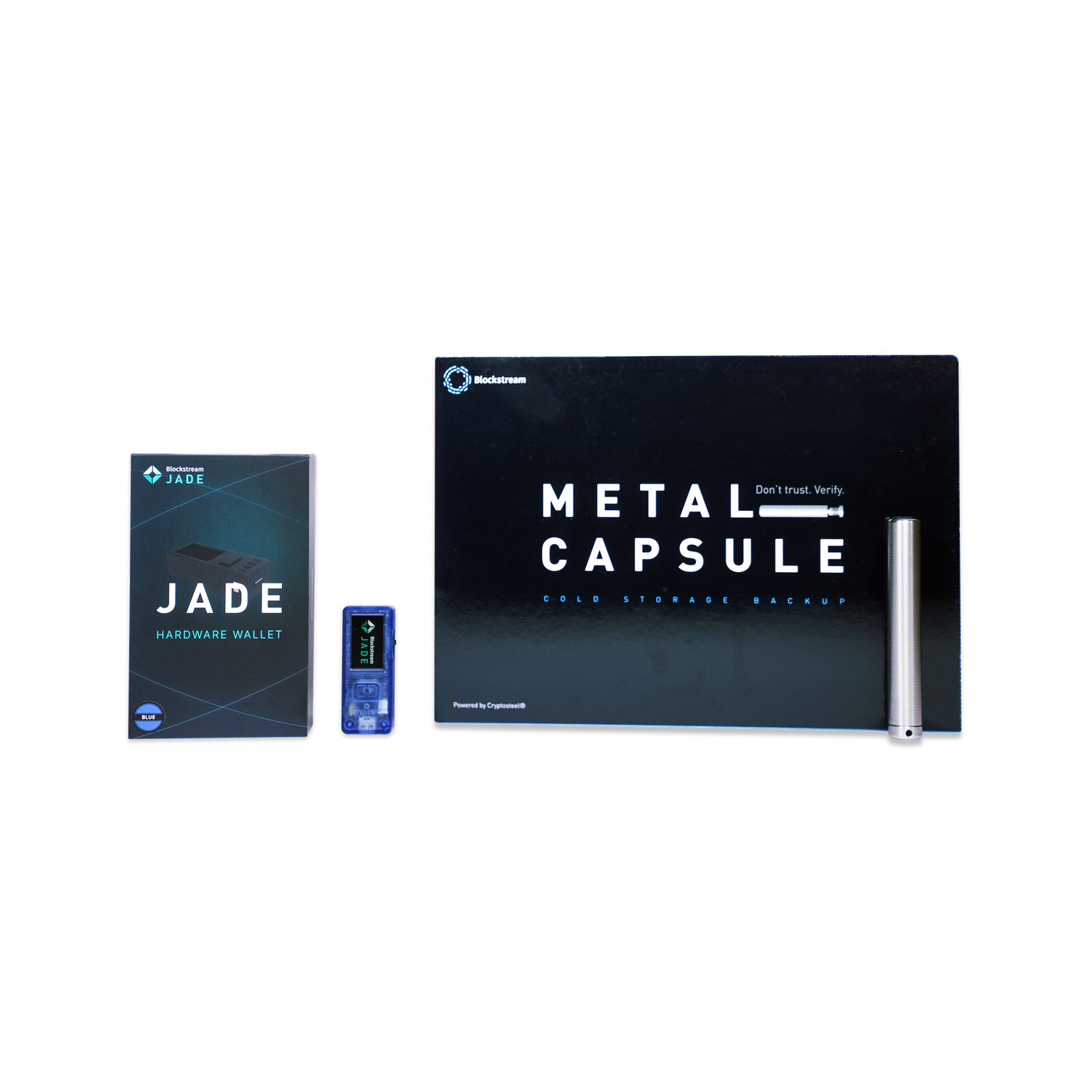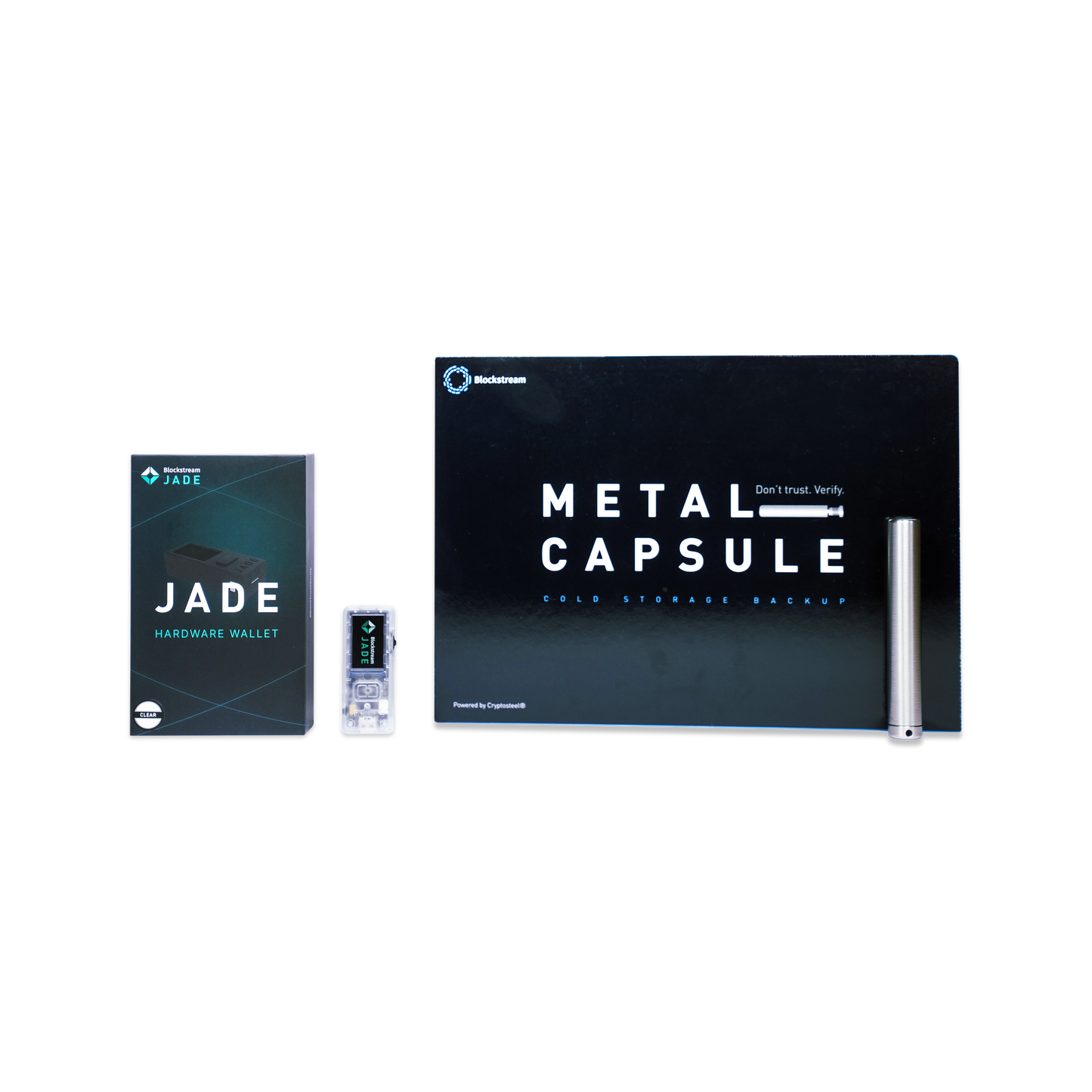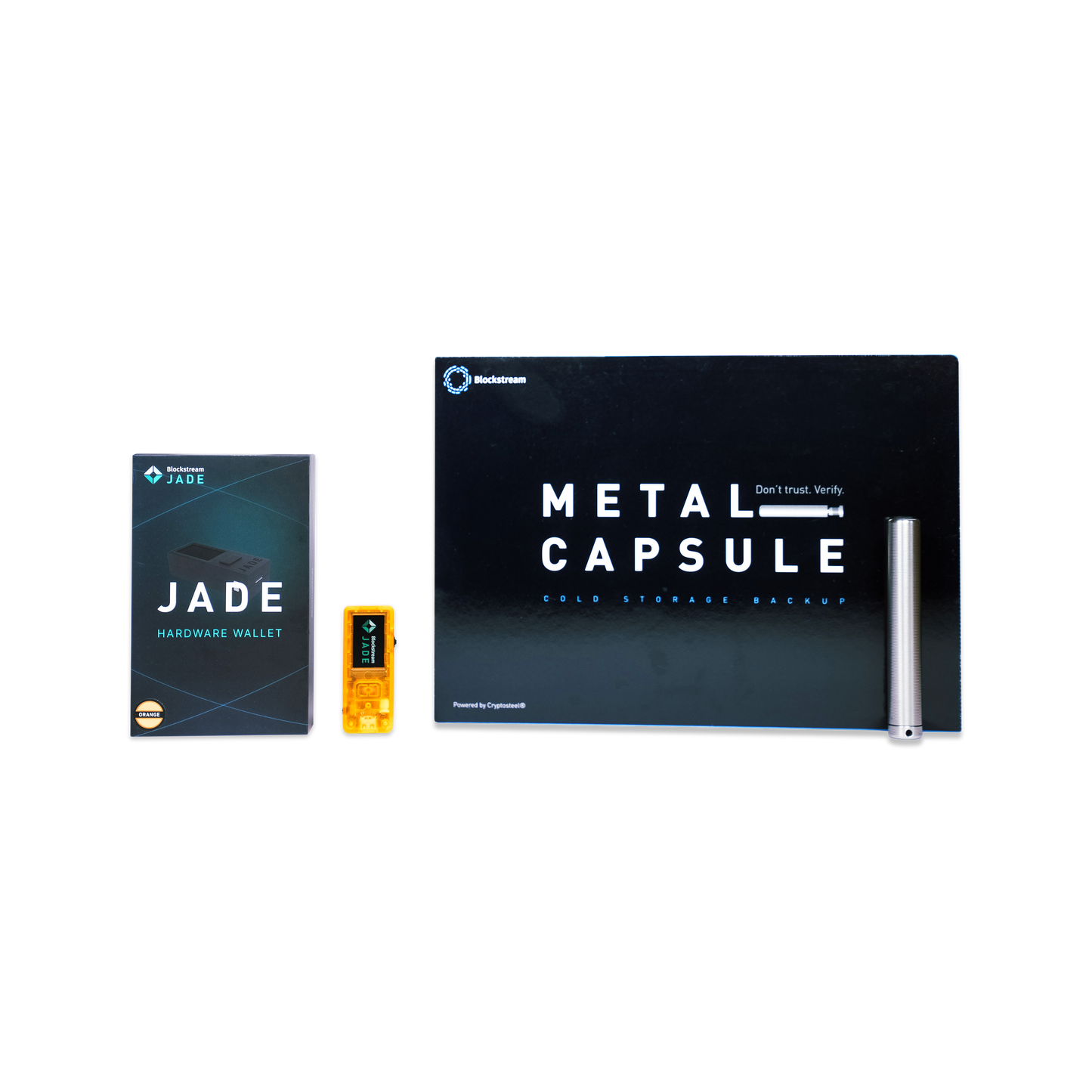 Frequently Asked Questions
Why do I need a hardware wallet?
Your bitcoin is protected by your private keys, so it is important to keep them as safe as possible. Hardware wallets like Jade are designed specifically to guard your private keys and offer far fewer attack vectors than alternate solutions.
How does Jade's security differ from other hardware wallets?
Our advanced security model allows nothing of value to be stolen from a locked Jade by itself. Unlike other devices, this uniquely eliminates the risk of the physical key extraction if an attacker finds or gets access to your Jade without the PIN.
How much experience do I need to use Jade?
None! Jade offers a dedicated companion app called Blockstream Green that guides users through a simple setup flow with step-by-step instructions to start receiving bitcoin in no time. As you grow in your self-custody journey, you can take advantage of Jade's advanced features whenever you feel ready.